Reputatable, Trusted And Accredited.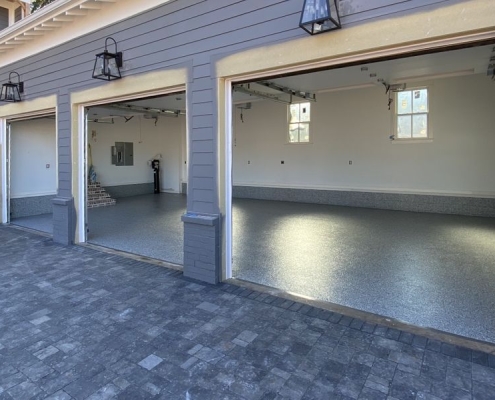 At Lifetime Epoxy Floors, our pricing policy is straightforward and simple. Our price is $5.99 per square foot for our standard flake floor finish.
Our Industrial Floor Coatings are quoted specifically for the specs of each job. We have the large equipment and workforce to get all jobs done on time.
Existing coating and paint slow down our prep process and require special diamond heads and equipment. Our coating removal fee is between $1 to $1.50 a square foot.
Crack repair is an additional charge and it normally cost $100 to $200 a job depending on how extensive the cracking and deterioration is. If you have less than 10 feet of cracks, there is no charge.
PAYMENT POLICY
We accept checks, cash, and credit card payments. Credit card payments are assessed a 3.5% fee to pay for the transaction fees that we incur.
We require a 30% deposit when you make the purchase. The deposit is non-refundable. This protects us because many of our installs require custom material purchases that we can no return to the chemical company. The remains 70% balance is paid when your job is completed on your scheduled day of installation.
​We have no intentions of selling the cheapest floor in North Alabama. Our mission is to sell the absolute best epoxy floor that money can buy. ​And we feel like we accomplish that mission, every time we install a new floor! We love helping people improve the quality and value of their home. We go to extreme measures to do so. We use our "5-Step" installation process on all horizontal floor surfaces and we use our "6-Step" installation process on all vertical "stem Walls".


If you are looking to buy a high quality floor that is beautiful and extremely durable, you have found it! Our floors do not peel, crack, flake, stain, or show hot tire marks, and they backed by the best warranty in the industry.
The Lifetime Warranty we back every floor with, is a testament to the confidence we have in the quality of our product and workmanship. When you purchase from us, you have the peace of mind knowing, your floor is a solid state floor built to last. And should you ever have an issue or problem, (we have had 4 warranty issues in 6 years) you can call us at 1-800-214-4311 or email us at lifetimeepoxyfloors@usa.com and we will send a crew out to repair the problem.
​We would love to build you a beautiful new floor. For a free estimate, or if you have a question, please call 1-800-214-4311. If you want an agent to come to your home for a onsite estimate, please fill out the contact form and submit it.