Reputatable, Trusted And Accredited.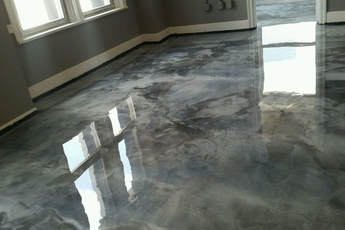 Metallic Floors are the most unique and intriguing epoxy floor available. Every Metallic Floor is Different.
To schedule a free consultation and metallic epoxy floor estimate,
call 1-800-214-4311 today!
If you are looking for a beautiful with a definite "WOW" affect, then a Metallic Floor may be perfect for you. Its great for basements, game rooms, offices, salons, and more.
Metallic Epoxy Floor Installers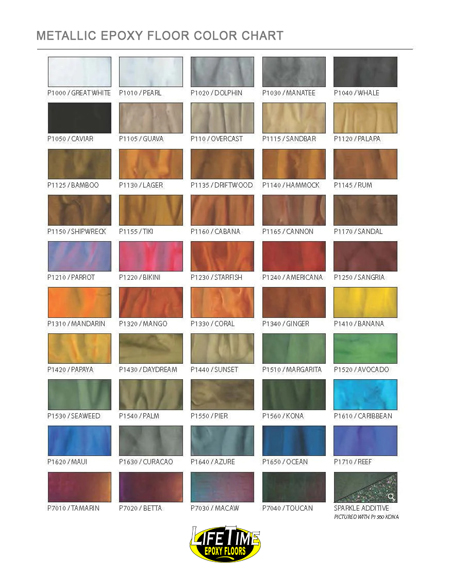 Our metallic epoxy floor coatings is one of the most unique and beautiful floor surfaces you can buy. We install metallic epoxy garage floor coatings, metallic epoxy basement floor coatings, and metallic epoxy floor coating on any other interior concrete floor surface.
All Metallic Epoxy Floors and Metallic Epoxy Flooring offers an "one-of-a-kind" look, but the cost of metallic epoxy flooring and metallic epoxy flooring cost is one of the most expensive epoxy floor coatings that you can buy.
The reason for the high metallic epoxy floor cost is that the installation of a metallic epoxy floor coatings takes up to 3 work days to install. This increase in labor cost is what makes the higher metallic epoxy floor cost.
We do install metallic epoxy floors. We offer a wide variety of metallic epoxy floor colors. We also provide free estimates, call 1-800-214-4311.
Metallic Epoxy Floor Pictures
(Click on any image to view full size.)
WHAT IS METALLIC EPOXY?
Metallic epoxy floor coatings offer a very high tech and exotic looking floor. These coatings create an exotic appearance with a glossy and deep looking floor with a variety of different colors and visual effects.
Made of 100% solids epoxy with metallic pigments added, this self-leveling epoxy coating can be manipulated to create the different visual effects. Multi-color effects can also be created with the introduction of a second color or third color during the application.
ARE METALLIC EPOXY FLOORS DURABLE?
Metallic Epoxy Floors are considered a high performance floor coating that is designed to last for years. First, an epoxy black primer is installed. Then, a second coat, the actual metallic color epoxy coating is applied. Last, a coat of clear is added. It's not unusual to add a fourth coat if applying polyurethane as a top coat. As a result, you end up with a very thick coating due to the amount of coats involved, especially from the metallic coat.